Trinity United Church Welcomes Everyone!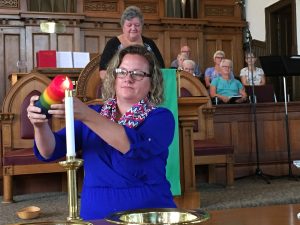 This summer will be a little different here at Trinity.  As part of our commitment to on-going inclusion of all people, our lift which allows access to the sanctuary and office/basement levels is being replaced.  This means that from June 18 until the end of July we won't be using our main office entrance. While the constructions is on-going, we are taking this opportunity to be creative about the ways in which we take "church" outside the church building.
Worship on June 24 will be on the lawn beside the church and then we will move into our summer sharing arrangement with First Presbyterian and McKenzie United Churches.  Check out our summer worship schedule here.
On Wednesdays in July, meet at the covered picnic area on Island Park near Splash Island at 9 a.m. for our Wednesday Walking Group.  This is an opportunity to walk with others and explore a question to ponder either in private reflection or chatting with someone.
On Sunday evenings in July, join us for Sunday Supper at a local restaurant.  Contact Beth by the Friday before to confirm this week's location and let us know you are coming so we can make an appropriate sized reservation.  These gatherings have no agenda except eating together and having fun.
On July 7, you are invited to be part of Trinity's delegation at the Portage Pride March.  Meet outside the Herman Prior Centre at 10 a.m. and look for the Trinity banner.
On July 19 from 6-9 p.m. join us for our Pool Party at Splash Island.  Please register with thechurch office by Friday, July 6 so we know how many lifeguards we need.
Our office will be closed from June 30 until August 13 but that doesn't mean we stop being the church.  Call the church number to find out who is on-call for emergencies or stop in to one of the functions listed above.   Keep up to date with our Facebook group ("Trinity United Church Portage la Prairie") or find us on Twitter (@churchportage) or Instagram ("trinityportage").
We are proud to be a Affirming Ministry congregation within the United Church of Canada and to offer our ministry in Portage la Prairie, Manitoba and beyond.
We hope you enj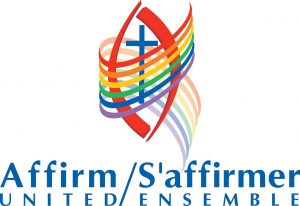 oy our website.  If you have any questions or would like more information about  anything, please contact us through our Contact page.
Upcoming Events
July 4 @ 9:00 am

-

10:00 am

July 7 @ 10:00 am

-

11:00 am

July 8 @ 5:30 pm

-

7:00 pm