Celebrate Advent and Christmas with us!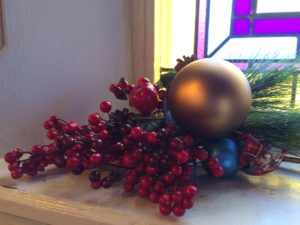 Whoever you are and whatever your story, we would be delighted if you would join us to celebrate the birth of Jesus.  As an Affirming Ministry congregation within the United Church of Canada, Trinity welcomes everyone: young or old or in-between, grieving or joyful, weary or full of energy, newcomer or long-time member, gay or straight, rich or poor, in good health or coping with illness.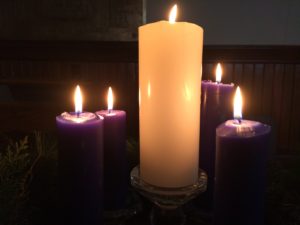 This year, we begin our Advent season of preparation on Sunday, December 3.  Our theme for Advent is "Come Darkness, Come Light" and each week we will explore some of the ways in which darkness can be a gift – inviting us to grow, to rest, to notice things we overlook in full daylight, to risk rebirth.  Sunday morning worship with Sunday School happens each Sunday at 10:30 a.m.  For more information on each week's worship themes, check out our worship schedule.  For tips on what to expect, check out our "What to Expect" page.  A daily Advent prayer calendar is available here.  Advent also brings many special events at Trinity including our Advent Brunch, the UCW Dainties Sale, a Christmas Family Movie Afternoon and much more.  Check out our up-coming events for information on Trinity and community activities.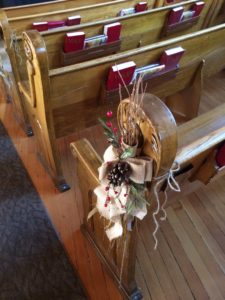 Recognizing that Christmas can also be a lonely, difficult time of the year, we offer an annual Service of Remembrance and Hope which provides an opportunity to gather and remember that Christmas is not just for the joyful.  This ecumenical service will be offered on Wednesday, December 20 at 7:30 p.m. at McKenzie United Church (85-11th St NW) in cooperation with First Presbyterian, Good Shepherd Roman Catholic, St. Mary's la Prairie Anglican and McKenzie United Churches.
On Christmas Eve, the United Church in Portage la Prairie is pleased to offer you four worship options:
10:30 a.m. at Trinity United: A cozy Sunday morning worship service for all ages.
4 p.m. at McKenzie United:  A more informal, interactive worship experience before supper.
7 p.m. at Trinity United:  A lively service designed to engage young and old alike including communion and our junior choir.
10 p.m. at Trinity United:  A communion service with a more reflective tone for those who want to end the evening with quiet and candle-light.
On New Year's Eve, the United Church in Portage la Prairie will have a joint service at 10:30 a.m. at McKenzie United with a more informal style around tables including coffee and muffins.
However you chose to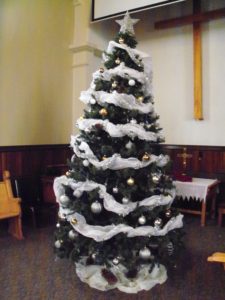 celebrate, it is our prayer that your life and the lives of those you love will be touched by the holy in life-giving ways this Christmas.  If we can support you in any way or you want more information, please contact us through our Contact page.  Thanks for visiting us today.
Upcoming Events
December 13 @ 7:00 pm

-

8:30 pm

December 13 @ 7:30 pm

-

8:30 pm

December 17 @ 1:00 pm

-

3:00 pm