United Church Women (UCW)
Trinity UCW is a vital part of our congregation.  They welcome any woman who would like to be involved in their life and work.  Their mission is "to love God; to foster Christian faithfulness, spirituality, commitment, and devotion, and to promote love and respect by living generously and giving joyfully to all God's people; and to affirm and strengthen ourselves creatively".
At Trinity we are blessed to have the UCW living out this mission in our midst in many ways.
Meetings are on the third Wednesday of the month at 9:30 a.m. in the parlour to learn about a topic of interest, to conduct such business as is necessary and to share food together. Any woman is welcome to check out this group as a visitor to see if she might wish to become involved. If you are interested in visiting a UCW meeting, please contact the church office or speak to any of the members to confirm the date, time and place of the next meeting.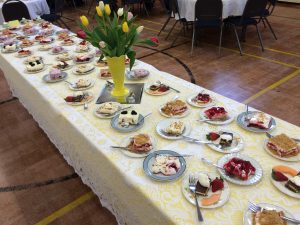 The UCW also coordinates the work of our catering teams who provide lunches following funerals and food for other church and community functions. This ministry is a beautiful expression of hospitality helping people to know that they are not alone in times of joy and sorrow.  We are very grateful for all the hard work that goes into offering this service with care and compassion.  Any man or woman or teenager who is interested in baking for functions or in helping with the set-up, clean-up or serving at funeral teas would be most welcome to join one of our catering teams. You don't have to like baking or even being in the kitchen to help.  We also need runners to pour coffee and tea and people to run the dishwasher. Again, please contact the church office to let us know of your interest.  We would be very grateful for your help.
Throughout the year, the UCW engages the whole congregation through a number of special events including a fall "Produce, Preserves and Pastries" sale, a November Tea, a Christmas "Dainties" sale, and an Irish Stew Lunch after worship in March.