Frequently Asked Questions
Here are some of the more common questions we get asked:
How do I find you?
We are located right in the heart of Portage la Prairie just a half block off Saskatchewan Avenue (the city's main street), behind the Bank of Montreal.  As one of the tallest buildings in town, you can see our steeple from quite a distance.  Our street address is 15 Tupper Street South if you have a GPS or smart phone. See our location on Google Maps.
What about parking?
We have a parking lot on south side of the building as well as an additional lot at the west-end of the building which is available when Nursery School is not in session.  Street parking is also permitted in front of the church and on the neighbouring streets.  On Sundays, you can also park in the lot at the Municipal Offices next door.
What are your office hours?
Our official office hours are Monday through Friday from 9 to noon and 1 to 4 p.m.  Except in extraordinary circumstances, you should find someone in the office during those times.  Our real hours of operation are much longer and more varied, however, so if you would like to pop by at another time, just give us a ring at 204-857-4471 to see if someone is here.
What time is worship?
Our Sunday service is at 10:30 a.m. year-round.  The doors are always open by 10 a.m., usually earlier, and you are welcome to come any time after that.  Realistically, our worship service is usually slightly longer than an hour followed by an opportunity to share refreshments downstairs afterwards should you so choose.  In the summer we share services with First Presbyterian and McKenzie United Churches so check the worship schedule for the appropriate location.
Can I bring my kids?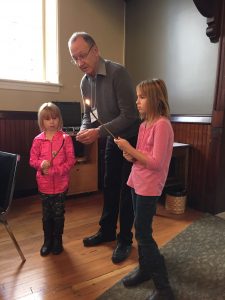 Yes, please do.  We love kids of all ages and we don't expect them to sit quietly.  Children are welcome to stay in worship with their families or to come downstairs for Sunday School after the theme time.  In the summer and during other times of the year when we might not have Sunday School, there is an activity centre at the front for children to use during worship if they would like.
Who can take communion?
Anyone who wants to.  We have absolutely no requirement to take communion other than a desire to do so.  If you feel moved to take part, please do.
Do I need to give money to come?
No!  There are no dues or fees to come to church.  The church is funded in large part by the contributions of its supporters and if you find a church home here, we hope that you will contribute to our life and work in whatever way is feasible for you.  However, we hope that you will feel comfortable trying us out for whatever length of time makes sense to you with absolutely no pressure to give us any money.
How do I become a member?
Talk to either of the ministers after worship or call the church office 204-857-4471 and make an appointment to see one of them to talk about the process.
Do I have to agree with everything that the United Church believes?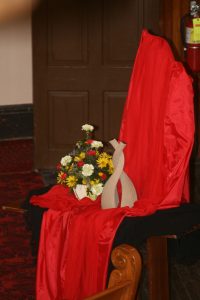 Of course not.  If you interviewed people in our congregation on just about any issue of faith or life, you would find a wide diversity of beliefs and opinions. We like it that way.  While most of us have some core values in common, we don't all think alike. We love good questions and we understand that the very best questions often have multiple true answers.
How can I get involved?
There are many ways to be involved at Trinity.  If you cook, bake, can make sandwiches or pour tea, the UCW would love to have you involved in one of their catering teams.  If you would like to meet some people at Trinity and get involved in various aspects of Sunday morning, consider joining a house group.  Other opportunities to serve abound including helping with Games Night, preparing meals at the Soup Kitchen, assisting in the Sunday School and much more.  Please contact the church office at 204-857-4471 or trinityu@mts.net for more information.
How can I donate?
If you would like to contribute to our ministry, you can do so by credit card at Canada Helps or by dropping off a cheque at the church office or mailing it to us at 15 Tupper St. S., Portage la Prairie, R1N 1W7.  If you would like offering envelopes or to sign up for PAR (Pre-Authorized Remittance), our office administrator would be pleased to set that up for you at 204-857-4471 or trinityu@mts.net.